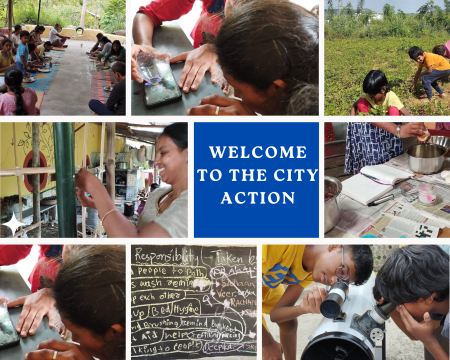 Visiting and staying at Campus with Aarohi community is a wonderful way to start / enrich your family's OpenLearning, HomeSchooling, UnSchooling Journey

What Aarohi offers is a space, an environment, a culture of open doing and learning. This typically leads to you not only exploring many things but more importantly exploring, knowing and discovering oneself.
You Would have an almost infinite choice of what to do – right from playing music to reading and writing literature to exploring nature, doing adventure, playing all kinds of games, doing drama or dance or making things from electronics to masonry to carpentry to making friends others or with pets or doing art or photography or bake cakes and breads or do barbecue or grow vegetables and work in the fields or gaze into skies into eternity …or simply do nothing!
You experience a culture of open doing and learning. This typically leads to you not only exploring many things but more importantly exploring, knowing and discovering oneself. Add to this the flavor of community living – which is a transformative journey for many of us.
We host a week's stay for families roughly every 6 weeks –  check the  calendar here.  

SOME NOTES
~ For first time guests, only a week long stay-visit from Monday to Friday is available. Please do not request for longer stays-visits.
~ The stay-visits are only for families who are either already doing open learning or homeschooling or unschooling or wanting to seriously explore open learning.
~ OR who are seriously interested in Joining Aarohi.
~ Option of only child coming to campus is NOT available. If not both the parents, we expect atleast one parents and children to come.
~ Before registering start with checking the campus calendar here.  Only specific weeks are available for visits. Weeks start on Monday (till Friday evening).
~ Please note Stay visit has to be planned a minimum of one week in advance – please do not book or push us for a visit just a few days before a Monday.
STAY EXPENSES: Aarohi, being a charitable trust, has no source of income and hence expenses incurred on maintaining the campus, staff, food, stay have to be borne by all, including the guests. Stay contribution is Rs 5000/- for the week per person (all inclusive).
For children below 7 years consider 50% of the above.
You can to payment either in advance or when you're at the campus
Payment options click here.
TO REGISTER for a STAY-VISIT:

~ It is required that you have attended at least one online Saturday meet-up on Open Learning before you come for a visit. Ping us on whatsapp for zoom link for meet-up.
After filling up the registration form below
> you will receive a confirmation via email and some important links to go through
>> And as a family please go through the Visiting Aarohi presentation
FAQs for Stay-Visits:

Q1 Can stay-visit be planned for 2-3 days.
We believe you would easily need a week to experience and understand open learning and Aarohi.
If, however, both parents cannot stay here for the whole week, atleast one parent and children can stay for the whole week, while the other parent can get a glimpse for a few days.
Q2 Can I do some of my office / personal work while I am at campus.
A. You can attend to some urgent / low time demand mandatory personal or office work. But it is definitely advisable to visit during a week where you do not have office / personal work and hence can engage with the community and experience open learning. Coming to campus with your office work hence is neither helpful for you, not for children and others here, further it kind of effects the whole learning culture of the community. Kindly plan to visit when you do not have office work.
The real way to understand open learning is by doing stuff; DOING things that you like, especially what you've never tried before. The experience of doing something new, and that too with those around you is an essential ingredient of open learning.
---
Q3 Can my child attend his or her online school from Campus?
It is highly recommended that either you come to the campus when the child has holidays from online school or you take a break for your child from his/her online school. Please do not mix school work with a visit to experience open learning.
---
Q4 When to reach campus on Mondays?
Our current schedule of the week is from Monday morning to Friday evening.
So ensure that you reach Campus BEFORE 10am on Monday morning.
If you're booking your flight / train / bus tickets – kindly plan in such a way that you reach on Monday (and not on Saturday/Sunday).
Similarly plan to leave campus by Friday evening after 3pm or worst case Saturday morning.
Q5 What about – Food, stay, Bedding and Laundry? What to Pack?
Food:
Fruits and basic simple Veg Food for all meals are provided in Community Kitchen. Only if you have any specific food need which you think will not be available in our kitchen please connect during orientation meeting scheduled after your registration.
You can bring any home cooked snacks or food items for the whole community, but definitely do not bring personal snacks. If you have a toddler any specific food needs for the child you can bring and also cook.
Stay: We all stay in Dormitory Style room – living together and experience community Living.
Campus has enough common basic bedding needs (bedsheets, pillows and blankets), so its optional if you want to bring your own beddings / sleeping bag.
Laundry: We have basic facilities to wash your own clothes manually..
Essentials to Bring – Travel light – Apart from your regular personal stuff – ensure you bring
Individual water bottle.
Separate notebook / stationary for each member of the family.
Outdoor shoes
Light jacket is recommended.
---
Q6 Can I get a gift for the campus?
Mostly campus looks forward to more tree saplings – any fruit tree, which you can even plant yourself when at campus.
---
Q7 How and when do I make contribution payment?
You can give cash when you're at campus or you can do a transfer after your visit – transfer options see https://aarohilife.org/pay
More Questions? Please Whatsapp Leela on 99009-62936
Guest Visit Registration Form (Use this link if form below is not appearing properly):